Do you find it hard to concentrate due to ringing in the ears?
Would you like to reduce the stress that tinnitus can cause? Finding a good quality of life is possible! together we can find the solution that will help you reduce your perception of tinnitus.If you have tinnitus, the first step is to have your hearing evaluated by a hearing care professional to discuss the solution that will allow you to live more comfortably. An assessment by an audiologist will identify the cause of your tinnitus:
– Hearing loss
– Exposure to very loud noise during your work or leisure activity
– Ear infection.
– A physical trauma to the neck and/or head.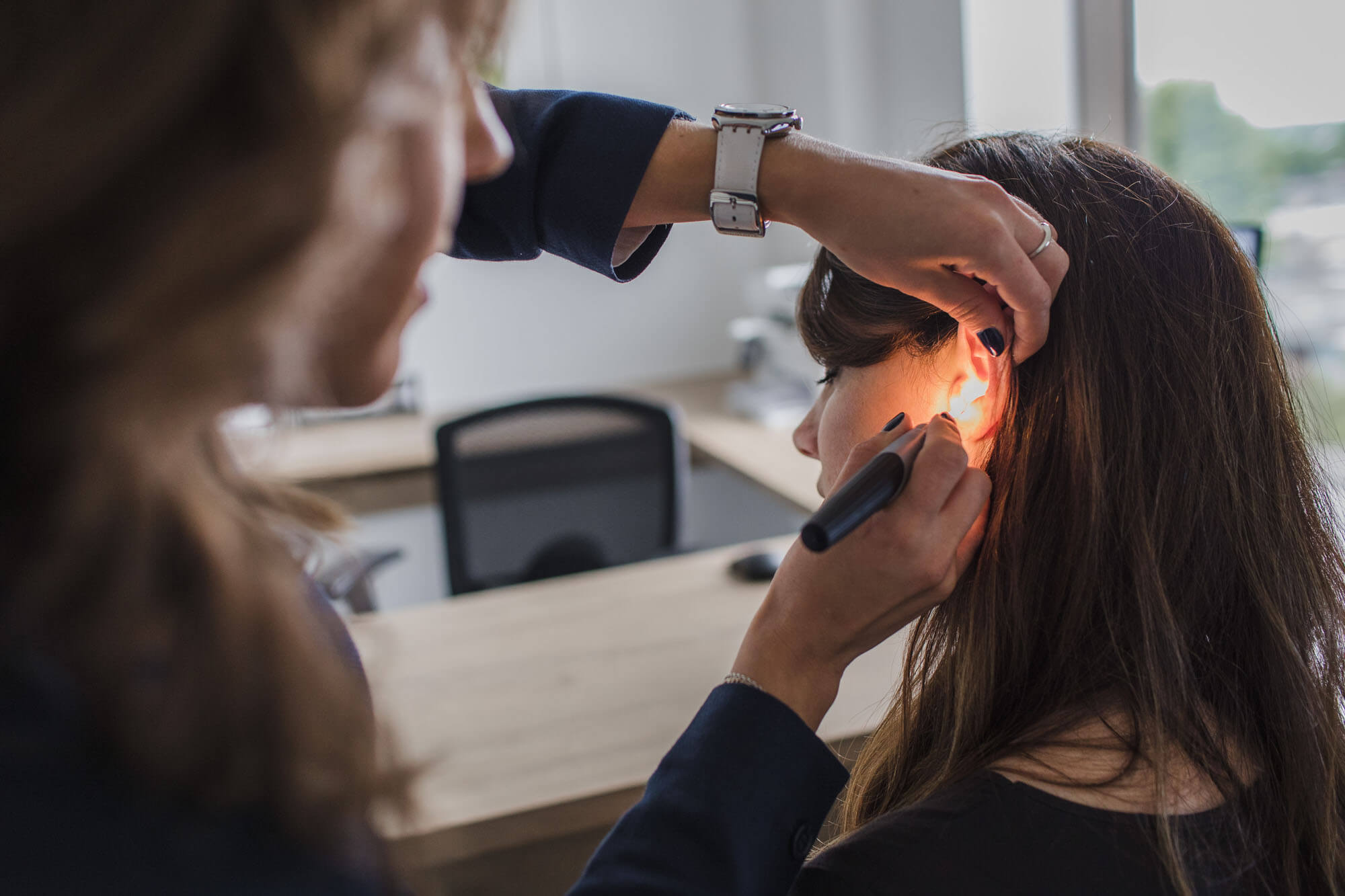 The second step is to meet with an Ear, Nose and Throat (ENT) doctor who will guide the appropriate tinnitus treatment.
Once a possible cause of your tinnitus has been identified, an appointment with your hearing care professional, who is trained in tinnitus management, will be scheduled. During this appointment your hearing care professional will introduce you to the different hearing solutions that will help mask your tinnitus.
How do you mask tinnitus? A sound will be presented to you that will be adjusted according to the tone, rhythm, and volume of your tinnitus to help your brain reduce its perception of the ringing or humming you are currently experiencing. Your hearing care professional will accompany you with active listening throughout the process to optimize the results.
It will also help you reduce the stress that tinnitus can cause by offering relaxation exercises in combination with the tinnitus masker. This solution helps to relax and reduces the effects of tinnitus, making them less present.
Our team will be able to coordinate your appointments with all the professionals. (Audiologist, ENT doctor and a hearing care professional).
For a consultation for tinnitus treatment, contact a Gaudreault & Rhéaume hearing care professional conveniently located in Laval and Montreal.
Laval: 450-688-3690
Montreal: 514-522-9898
Satisfaction guaranteed
Expertise in fitting hearing aids, best quality equipment
Continuous training
And collaborations with the best hearing aid manufacturers.
Availability - fast access,
Fast access, to have an appointment and for any request for repair or information.
Complete service
Excellent collaboration with ENT doctors and audiologists
A HUMAN APPROACH, EXPERIENCED AND SMILING
Accompaniment and support throughout your journey
« A warm welcome and smile et souriant awaits you!"
MédiCentre Chomedey
610, boulevard Curé-Labelle, office 17
Laval (Québec) H7V 2T7
450 688-3690
 IMSL
1875, road Maurice-Gauvin, office 204
Laval (Québec) H7S 2M5
450 688-3690
Tower Jacques-Cartier
1851, Sherbrooke East, office 702
Montréal (Québec) H2L 4L5
514 522-9898